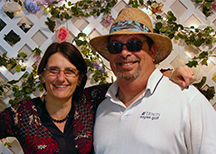 Dale and Cynzia Hardy
Head Pastor
Before coming to Sonshine in 1999 The Hardy's helped Pastor and Charlotte start Community Baptist Church in Gainesville, FL. They worked together for about 2 and a half years before Pastor came to Sonshine. After working together here for over 9 years, Pastor Dale and Cynzia accepted the call to become the senior Pastor of Lighthouse Baptist Church in Lake Mary, FL. Where they have been serving for the past 6 years. We can't be more excited to have them back with us now, and we can't wait to see what God has in store for them!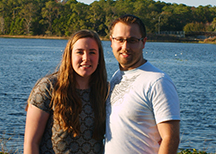 Corey and Jessica Kershner
Sending Missionaries
Corey & Jessica Kershner came on staff in June 2010. Corey & Jessica are both graduates of Baptist Bible College and plan to minister in East Asia. Corey & Jessica grew up in St. Petersburg, Florida under the pastorship of Park Street Baptist Church. They are excited to work with The River Children's Ministries and help teach children the truth of the Word of God so they will know that it is a living book, filled with the answers for today's issues.
Elijah Tucker
Youth & Music Ledaer
Sonshine welcomes Elijah Tucker as our new Youth Group Leader and music Leader for our contemporary service. Elijah just finished his schooling at Moody Bible Institute in Chicago, after pursuing Biblical Studies with an interdisciplinary in Music. He has a passion for youth and music and loves working in both areas. He also believes in the utmost importance of the sharing of Jesus Christ's gospel of love and reconciliation. He looks forward to working towards this goal with us here at Sonshine.