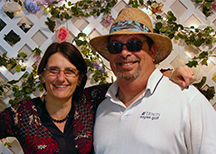 Dale and Cynzia Hardy
Head Pastor
Pastor Dale graduated from Trinity Baptist College in 1992 and served as a church planter, Christian School administer, and Associate Pastor before coming to Sonshine in 1999. While at Sonshine he handled youth, senior adult, and outreach ministries along with his wife Cynzia who was the office manager and bookkeeper. The Hardy's left Sonshine in 2008 to pastor Lighthouse Baptist Church in Lake Mary, Florida, and returned to Sonshine in 2014. He was called as Senior Pastor in May of 2017 upon the retirement of Pastor Bill Bales.
Pastor Hardy has a passion to reach the lost and engage with the community. He truly believes that "We reach the world through the building of relationships."
Elijah Tucker
Youth/Music Leader
Sonshine welcomes Elijah Tucker as our new Youth Group Leader and music Leader for our contemporary service. Elijah just finished his schooling at Moody Bible Institute in Chicago, after pursuing Biblical Studies with an interdisciplinary in Music. He has a passion for youth and music and loves working in both areas. He also believes in the utmost importance of the sharing of Jesus Christ's gospel of love and reconciliation. He looks forward to working towards this goal with us here at Sonshine.
Gretchen Hardy
Children's Director & Office Administrator
In 2015, former Senior Pastor, Bill Bales, asked Gretchen Hardy become the Children's Ministries Director. Having attended Sonshine while she herself was in middle/high school, she was no stranger to our ministry here. Gretchen attended Trinity Baptist College in Jacksonville, Florida for her B.S. degree in Secondary Education. While there, she served in the sister-ministries of Trinity Christian Academy and Trinity Baptist Church, working in various child/youth areas. After graduation, she taught middle school and high school for 5 years. As Children's Director, Gretchen oversees all the Sonshine Kids' programs on campus and our outreach ministries at a local elementary school. She also enjoys when she gets the chance to serve in the teen ministry and sing with the worship team. As of May 2017, Gretchen added Office Administrator alongside the Children's Director title when the previous Administrator retired.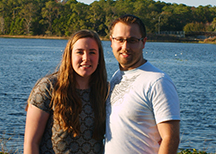 Corey and Jessica Kershner
Sending Missionaries
Corey & Jessica Kershner came on staff in June 2010. Corey & Jessica are both graduates of Baptist Bible College and plan to minister in East Asia. Corey & Jessica grew up in St. Petersburg, Florida under the pastorship of Park Street Baptist Church. They are excited to work with The River Children's Ministries and help teach children the truth of the Word of God so they will know that it is a living book, filled with the answers for today's issues.